I know I was 'Missing In Action' all of last week, but I was travelling for work, and one of the places I visited was

Hong Kong

. There really are no words to describe the Degree of Awesomeness of this City and if you've never been I really recommend that you go! ...
From 14-story shopping malls that are open until 1am (can you imagine the amount of shopping an individual would be able to achieve in just one day) to the Amazing Hong Kong Skyline, this really is a city that has it ALL! There cannot possibly be a dull moment here as every corner turned reveals more Amazing thing to see and do.
So today, just a few snaps of my own and some I found on the internet from this Awesome City to entice your Inner Explorer to Travel here:
Times Square!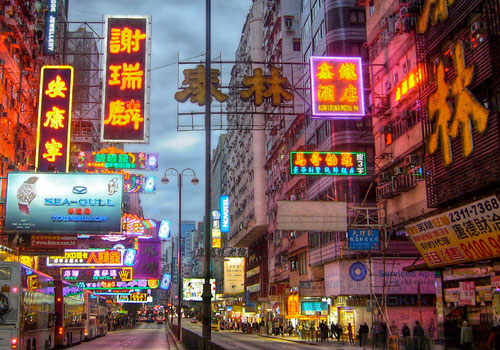 Street View
Granville Road
Hong Kong even has a Disneyland!
A Street in Hong Kong
We had Teppanyaki one of the evenings at Matsuzaka, which was a very exciting experience as the chef made the food dance across the hot steel plate — Dinner and a Show! I tried Foie Gras and some Kobe beef, which were both unexpectedly delicious, and to finish of the Meal they brought out Black Sesame Seed Ice Cream ... which is now my Favourite Flavour!
Black Sesame Seed Ice Cream
This is definitely a city I'd love to go on Holiday to and Explore every inch of it! Have you been to Hong Kong? What did you think of it? I'm

Q-rious

to find out ...