NEON
Pink, Green, Yellow, Orange and Blue — I'm really Loving them all! They add such a 'shock' of life to any outfit ...
NEON dresses, shoes, bags and accessories! I think they add a much needed PUNCH to any outfit and add a SPARK to any day ... especially with winter around the corner (here in South Africa)!
The Best News is: You'll only need one of these

NEON

beauties to brighten up any Ensemble.
To avoid overdoing the NEON, I suggest pairing the bright colors with a neutral shade such as white, black, camel or beige. However, if you are bold enough to Colour Block your NEON's ... Why Not?
Some of my Favourite Looks and Accessories:
A few Neon Accents with Accessories
Colour Blocking with NEON
Bold Statement: Colour Blocking and Print!
Neon Accessories ...
Neon Cambridge Satchels!
Pierre Hardy Clutch
Neon Shoes
Even Neon Shoes for MEN! :)
Neon Yellow Frames and Shocking Pink Lips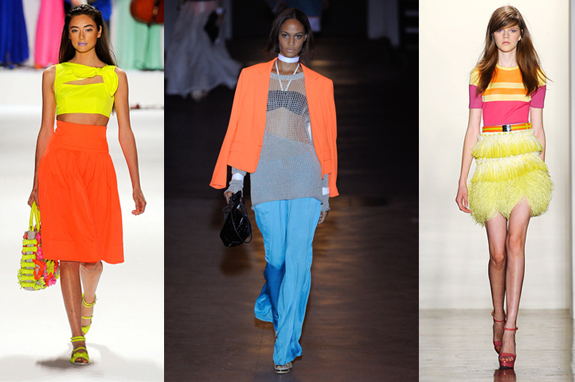 From L to R: Nanette Lepore, Rag and Bone, Peter Som
Nanette Lepore Bag
Celeb Looks:
Jennifer Loez (L) and Dree Hemigway (R)
Emma Stone (L) and Fergi (R)
And why not bring NEON Home? You'll only need 1 NEON piece to accent a room, below are a few fun ideas: