Today, in South Africa, I was very privileged to attend the Screening of Michel Hazanavicius',

The Artist

at Monte Casino... and what a treat!
The movie begins the 'Old Fashioned Way': The credits start rolling before the movie begins, and I felt I should be sitting in the theatre in a Glamourous Flapper dress with strings of pearls hanging from my neck and a pair gloves (I felt rather underdressed in my Jeans and Tee).
George Valentin (Jean Dujardin) and
Peppy Miller (
Bérénice Bejo)
Synopsis:
The movie is a black-and-white romantic comedy which takes you back to 1927, Hollywood, where the dialogue is on Title Cards and only music can be heard. George Valentin (Jean Dujardin) is a Silent Movie star who seems blessed: he is handsome, charming and athletic but the arrival of the 'Talkies' (movies with a soundtrack) causes George to fall into anonymity, alcohol and poverty. As for young extra, Peppy Miller (Bérénice Bejo) — whom he discovered, it seems the 'Sky's the Limit' and major Movie Stardom awaits.

George Valentin (Jean Dujardin) and Jack the Dog (Uggie)

The movie in itself is
silent — or almost silent. There are some spoken words, and a captivating continuous orchestral score by Ludovic Bource. The Music expresses the characters feelings and represents their voices.
The Lovely Bérénice Bejo plays Peppy Miller
Personally, my favourite character in the movie was Jack, the Dog (played by Uggie). Not only was he splendidly entertaining and outrageously intelligent, but also an important Symbol in the movie: "You CAN teach an Old Dog New Tricks".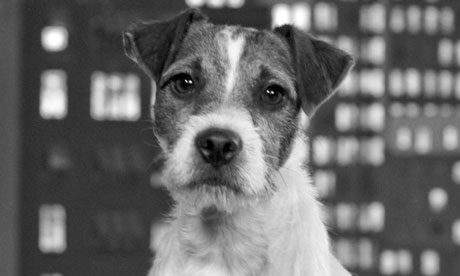 Jack the Dog (Played by Uggie)
This film is definitely worth your attention.
It is anything but an 'Art Film' instead
you are invited to re-live the magic of silent cinema —
a clever and cheerful film with delightful performances and an abundance of visual style.
I
f the acquirement of 3 Golden Globe's, 7 BAFTA's and 10 Oscar Nominations (of which the winnings will be announced later this evening) don't impress you; I don't know what will!
If you've already watched it (as it was released on 12 October 2011 in other countries) or are going to watch it in March, when it releases in South Africa, please let me know what you think — I'm Extremely

Q-rious

to hear your opinion...
P.S.

After seeing

The Artist

you can't say Hollywood doesn't make Movies like they used to
!