I must admit that before last night I had hardly heard of Two Door Cinema Club (except for the buzz about how difficult it was to 'win' tickets on Facebook). But by some twist of fate, I received tickets from a friend and I decided to go and see what all the fuss was about...
Brought to Johannesburg and Cape Town by 5 Gum, it promised to be a Special Multimedia Event.
As part of the experience, it was interactive and nobody could BUY tickets as 5 Gum was encouraging fans to get personal in order to WIN their tickets to the Show.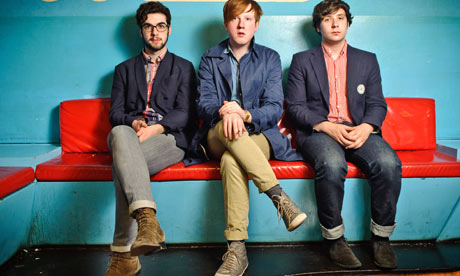 Kevin Baird, Alex Trimble and Sam Halliday from Two Door Cinema Club
So Who Are They?
Formed in 2007,
Two Door Cinema Club

are an Indie Rock Band from Northern Ireland. The band is composed of band members:
Sam Halliday (lead guitar, backing vocals)

Alex Trimble (vocals, rhythm guitar, beats, synths)

Kevin Baird (bass, backing vocals)
Since releasing their debut album Tourist History in March 2010, Two Door Cinema Club has rapidly become one of the biggest new success stories in UK music

.
Last night was their first ever tour in South Africa (and Africa) and I thoroughly enjoyed their music. They have a very upbeat quirky vibe and rather catchy lyrics (I even found myself eventually singing along to the chorus' of some tracks). The event was a huge success due to the fans in the crowd — They were jumping and singing and the Atmosphere was very Festive.



The Line Up:


20h15 – 21h00 Isochronous
21h15 – 22h00 Desmond & The Tutus
22h30 – 23h30 TWO DOOR CINEMA CLUB
23h30 – 01h30 DJ Haasbroek
So, if you are like me and have never heard any of their music ... take a peek at one of their music videos below (I've heard it play on the Radio many times) and if you are

Q-rious

to find out more about the band, click here.